Lloyds Banking Group
Our partnership with Lloyds Banking Group has allowed us to expand our services and reach thousands more people living with mental health problems. We have worked closely with them to engage colleagues in our cause.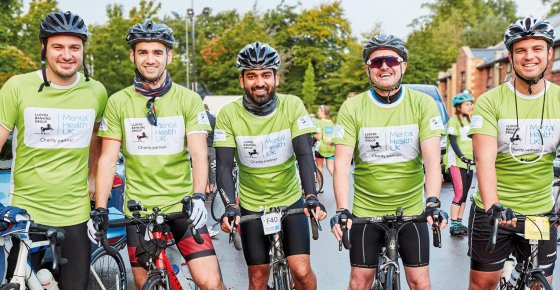 Million Pounds
raised to date
£2 million
gained for clients from Mental Health and Money Advice service
Volunteering Hours
logged during 2017-18
6062 Trekkers
trekkers joined Walk The Talk fundraising events across the UK and in the Great Wall of China trek in 2018
Walk The Talk Events
organised by colleagues in 2018
700,000
mental health information guides distributed to GP surgeries and university students
Support Groups
newly opened
12,500 Colleagues
took part in last staff vote to decide the next project their donations would fund
Dec 2018
Lloyds Banking Group colleagues voted to extend the partnership for a third year. They chose for us to work on a project focusing on building resilience in young people.
Nov 2018
The first anniversary of Mental Health and Money Advice. In its first year the website reached 138,000 people with advice, information and support, with over 80% of visitors finding the information helped improve their mental health financial health. 1250 clients were helped through the advice line with each of them £1497 better off per year on average.
Oct 2018
Our information guides reached over 5000 GP surgeries and over 400,000 university students. Health practitioners were also educated about the guide and how to signpost patients to it.
Sept 2018
6062 colleagues took part in Walk The Talk events raising an incredible total of £627,397. Walk The Talk aims to get people outside walking and talking about their mental health. 35 colleagues took part in a challenging Great Wall of China trek. Colleagues across the UK organised 217 of their own walks, with over 4,600 trekkers taking part, as well as over 1,400 attending events across the country.
May 2018
Launched a new information guide to help people identify signs and symptoms of mental health conditions and where to seek help if needed. A digital version was also produced including real life stories and a quiz to debunk common myths around mental health.
Feb 2018
Premiere of 'Get The Inside Out' TV campaign on Channel 4. The advertising campaign aimed to encourage people to feel comfortable talking about their mental health. It featured celebrities, colleagues and members of the public talking about misconceptions in mental health. The campaign received 92% overall positive reactions from audiences.
Nov 2017
Launched the UKs first Mental Health and Money Advice service. An advice service helping thousands of people every year who are experiencing difficulties with both their mental health and money.
Sept 2017
280 colleagues took part in the Fourtitude Challenge, a physically and mentally demanding 4-day journey fundraising for our charity. Teams in each of the 4 nations ascended their highest mountain, then came together for a 100-mile cycle through the Peak District, and finally a half marathon along Birmingham's Towpaths.
June 2017
Colleagues had already raised a phenomenal £1 million. Across the UK colleagues organised dress down days, cake sales, charity balls and concerts as well as taking on physical challenges to climb, run and cycle to raise funds.
Jan 2017
Announced the partnership on Blue Monday raising an incredible £32,431.
Our ambition was to shift people's mindset to recognise that we all have mental health, just as we all have physical health. Since 2017, our partnership with Mental Health UK has enabled us to do that. Combined with our colleague's raising over £8m to date, Mental Health UK have launched the Mental Health and Money Advice service, helping people who are really struggling with both mental health and money problems. The new service has been able to provide a place to access advice, information and support in difficult times.